Gmail is an e-mail service given by Google. It comes from the word Google and e-mail. Gmail started on March 31, 2004. It was announced that day to make it seem like an early April Fools Day joke. Gmail has had 2 logos
2004 - 2010
Edit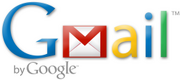 The first Gmail logo has the words "By Google" on the left side.
2010 - Present
Edit
The words "By Google" switches to the right side, the colored letters slightly get brighter, and the envolope gets dimmer.


Ad blocker interference detected!
Wikia is a free-to-use site that makes money from advertising. We have a modified experience for viewers using ad blockers

Wikia is not accessible if you've made further modifications. Remove the custom ad blocker rule(s) and the page will load as expected.