Google News is a search engine where you can read new articles. It was released in March 2002
2002 - 2006
Edit

The normal Google logo with the words "News" written in red under it. Also, the words "BETA" under the "le" of Goog
le
.
2006-2009
Edit
Same thing, but the words "BETA" are gone.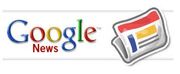 2009 - Present
Edit
The red "News" turns blue and goes on Google's right side,


Ad blocker interference detected!
Wikia is a free-to-use site that makes money from advertising. We have a modified experience for viewers using ad blockers

Wikia is not accessible if you've made further modifications. Remove the custom ad blocker rule(s) and the page will load as expected.