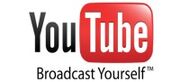 YouTube is an online video-sharing network. It started in 2005, and Google bought the network in 2006 for $1,600,000,000 (1.6 Billion). It is the largest video-sharing network.
2005 - 2009
Edit
The words "You" are in black. The words "Tube" are white and in a red box. It's motto "Broadcast Yourself" is at the bottom.

2009 - Present
Edit
The words "Broadcast Yourself" are gone and the red box becomes brighter.
Ad blocker interference detected!
Wikia is a free-to-use site that makes money from advertising. We have a modified experience for viewers using ad blockers

Wikia is not accessible if you've made further modifications. Remove the custom ad blocker rule(s) and the page will load as expected.